Using a combination of different modalities, this treatment will stimulate your body into a natural relaxation state. - Which can help remove obstacles, allowing the healing and transformation to begin.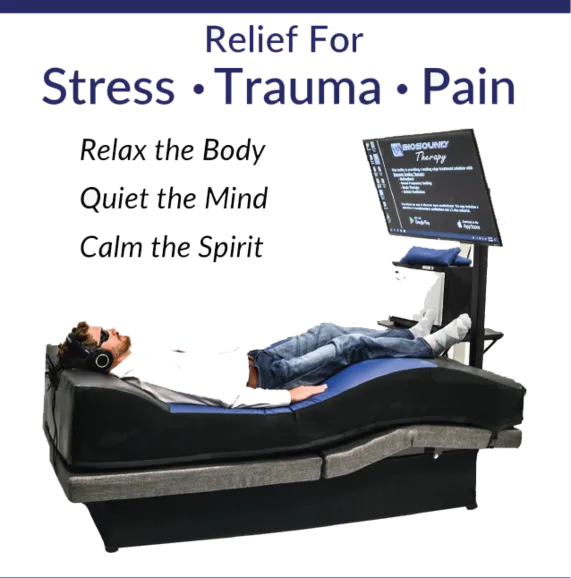 Therapeutic Music

The Therapeutic Music that is arranged for the Biosound Healing Therapy System is composed with binaural beats and healing frequencies that help activate the parasympathetic nervous system (the body's relaxation center).
Biofeedback
The system integrates a user friendly HRV biofeedback program that teaches simple techniques to manage emotions and achieve physiological coherence. Physiological coherence is also known as "Being in the Zone."
Guided Imagery
The guided imagery selections are mindfulness meditations designed to take you deeper into a subconscious theta brainwave state where positive messages can be delivered successfully.
Vibroacoustic Massage

Uniquely crafted powerful transducers transmit deep resonate vibrations to the body. This helps to stimulate a natural relaxation response that relives muscle tension, body aches and pain.
Spa Package
Includes moist heated pillows for neck, shoulder, knees or other areas where pain is located. Aromatherapy is used to enhance the experience.
Results
Symptom Decrease